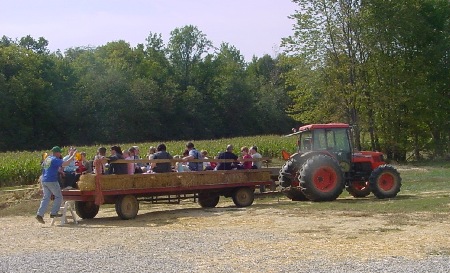 The fall season is the fun time on the farm. "Family Fun on the Farm" will begin September 19th and continue each weekend through the month of October 2015 with the last day being on Halloween. Our Farm Market is filled with Fall produce, apples, cider, pumpkins, mums, homemade fudge, caramel apples, Kettle Corn and baked goodies from our own Bakery.

FEATURED ATTRACTIONS FOR OCTOBER WEEKENDS 2015.



Wagon Rides to the Pumpkin Patch****See below**** Pumpkin Sling Shot --5 shots/$1.00

U-Pick Pumpkins -- $5.00 each Corn Dig

Wildly Fun Rat-Race 7 acre Corn Maze Adventure

20 foot Corn Field Slide Corn Hole

Straw Bale Maze Duck Races

Old McDonald's Farm Corn Maze Tractor Swings

Our Famous Straw Castle Corn Stalk Tunnel

See-Saw Fun Kiddie Pedal Cars

Corn Popper Jumping Pillow Granny's Clothesline Zipline

Pony Rides --- $4.00 per ride Tire Swings

****Our Wagon Rides begin an hour after opening time & continue all day Sat & Sun with the last wagon ride departing at 5 p.m. both days****

Hours: Saturday 9-6 and Sunday 10-6
Admission: $8.50 per person----under 2 is Free.


Church groups, organizations, corporate groups and other groups of 15 or more are welcome at the rate of $7 per person.

Call us: 812-963-3175 or email maysefarmmarket@mw.twcbc.com.

***<><.>***<><.>***<><.>*** WEEKDAY ACTIVITIES (Mon-Fri) ***<><.>***<><.>***<><.>***

WEEKDAYS (Mon-Fri through October 30th): Hours are 2:00 - 6:00 pm.(unless otherwise noted on the Home Page.) THE ONLY WEEKDAY WAGON RIDE LEAVES PROMPTLY AT 5:00 pm EACH DAY (or more often if needed). Activities open during the week: The Wagon Ride to the Pumpkin Patch, U-Pick pumpkin, 7 ac Corn Maze, 20' Corn Field Slide, Old McDonald's Corn Maze, Straw Maze, Straw Castle, Corn Stalk Tunnel, Duck Races, Rat Race, Corn Hole, See-Saw Fun, Tire and Tractor Swings and Pedal Cars. Admission: $6/person on weekdays.....2 and under are Free.

"There's no crying on The Farm. The only time you cry is when you leave" Paul Mayse