IT'S WINTER TIME AT THE MARKET!!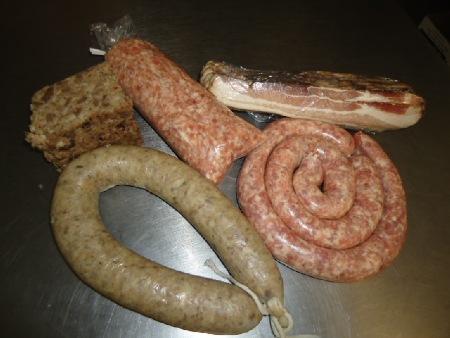 Our Market is temporarily closed to prepare for our Country Sausage Season. We will re-open on Nov 25th. We offer Whole Hog sausage, made on site, weekly. Sausage Season runs through the end of January 2015. Our sausage has NO MSG or fillers. Order up some of our sausage for a great Thanksgiving Breakfast for your family. See our Country Sausage tab for more information. Please place Thanksgiving Pie & Bread orders soon via phone or email. Be sure to leave a phone number, date and the time of day you would like to pick up your order. We'll give you an order confirmation call.

FRESH IS THE BEST!!!

BUY FRESH---BUY LOCAL!!! DISCOVER ALL THE FRESHNESS THAT NATURE OFFERS WHEN YOU LEAVE THOSE BOX STORES BEHIND. FRESH IS THE BEST!!!

We have been providing the Evansville Indiana area with fresh homegrown produce for over 70 years. The major crops we grow are Strawberries, Sweet Corn, Tomatoes and Pumpkins along with other great vegetables on our 90 acre farm.

Our produce is all handpicked everyday to ensure quality and freshness.

Sign up for our weekly newsletter to stay up-to-date with all the seasonal fresh stuff our Market has to offer, our Fun On The Farm Fall activities and More: maysefarmmarket@mw.twcbc.com.

OUR MARKET HOURS BEGINNING NOV 25, 2014: Tues - Fri 9-5; Sat 9-Noon; Closed Sun and Mon.

Thank you for visiting us on our website!!

Click on the various category tabs for more information.