AS WE CELEBRATE 75 YEARS OF PROVIDING THE FRESHEST PRODUCE IN THE AREA OUR "FAMILY FUN ON THE FARM" CONTINUES THROUGH THE MONTH OF OCTOBER! JOIN US FOR HAY RIDES, CORN MAZE FUN AND MUCH, MUCH MORE. WE HAVE NEW ACTIVITIES THIS YEAR SO COME CHECK IT OUT!!

<><.><><.><><.><><.><><.><><.><><.><><.><><.><><.><><.><>
On Monday, October 12th we will have Special Hours in the afternoon. Our "Fun on the Farm" activities will be open from Noon to 6 p.m. Wagon rides will depart at 1:30, 3:30 and 5:00 p.m. Admission is $6.00 per person---2 and under are Free. It's Farm-tastic!!!
<><.><><.><><.><><.><><.><><.><><.><><.><><.><><.><><.><>

Using your cell phone text "MAYSE" to 51414 to enter our weekly contest for ONE FREE admission to "Family Fun on the Farm". One winner each week through October will be announced each Thursday.


***See our "Fall Activities" Tab for more information!!***

Available in the Market are Fall Apples featuring Honey Crisp, Beautiful Mums, Pumpkins, Fall Decorations and More!

Our Down-On-The-Farm Bakery is open. We are mixing up our Signature Fruit Breads, Pies, Cookies and MORE.


We are located at 6400 N. St. Joseph Ave in Evansville, IN (just north of Mill Rd)

Our current Market hours are: Monday - Friday 8:30-6, Saturday 9-6 and Sunday 10-6.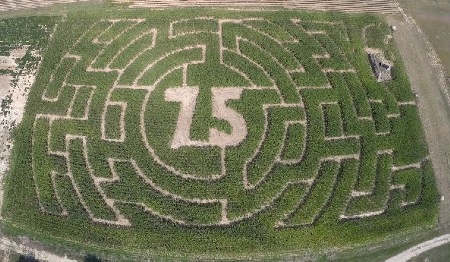 Our 2015 Corn Maze design celebrating 75 years of Homegrown Freshness from our fields to your tables the same day.

FRESH IS THE BEST!!!

We have been providing the Evansville, Indiana area with fresh homegrown produce for 75 years. The major crops we grow are Strawberries, Sweet Corn, Tomatoes and Pumpkins along with other great vegetables on our 90 acre farm.

Our produce is all handpicked every day to ensure quality and freshness.

Sign up for our weekly newsletter to stay up-to-date with all the seasonal fresh produce our Market has to offer, our Fun On The Farm Fall activities and More: maysefarmmarket@mw.twcbc.com

Thank you for visiting us on our website!!

Click on the various category tabs for more information.