It's Winter-Time on the Farm!!
Our Sausage Shoppe opens on Nov 24, 2015 offering our made fresh weekly Country Sausage, Smoked hams, bacon and sausage, Liver Sausage, Head Cheese and More!
Our Sausage Shoppe will be OPEN from Nov 24, 2015 through Jan 20, 2016.
Stop in for a Taste of the Past!


******See our Country Sausage tab for more information!*******

During Sausage Season our Down-On-The-Farm Bakery is open. Let us help with your Thanksgiving and Holiday celebrations. Order up our delicious pies, Signature Fruit Breads, Yeast Breads, Cookies and More!


We are located at 6400 N. St. Joseph Ave in Evansville, IN (just north of Mill Rd)

Our Sausage Shoppe Hours beginning Nov 24, 2015 will be Tue-Fri 9-5, Sat 9-Noon, Closed Sun and Mon.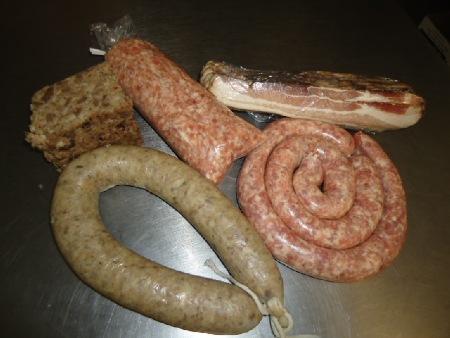 Our Country Sausage, Ham, Bacon and Liver Sausage can't be beat.

Stop in for a Taste of the Past!


FRESH IS THE BEST!!!

We have been providing the Evansville, Indiana area with fresh homegrown produce for 75 years. The major crops we grow are Strawberries, Sweet Corn, Tomatoes and Pumpkins along with other great vegetables on our 90 acre farm.

Our produce is all handpicked every day to ensure quality and freshness.

Sign up for our weekly newsletter to stay up-to-date with all the seasonal fresh produce our Market has to offer, our Fun On The Farm Fall activities and More: maysefarmmarket@mw.twcbc.com

Thank you for visiting us on our website!!

Click on the various category tabs for more information.